Boss
Vector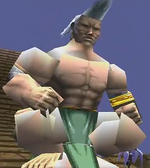 | | |
| --- | --- |
| Location | Element |
| Law City, Zenebatos | Darkness |
HP
EXP
Gold
US 5600
JAP 7000
12000 (with Kubila and Selebus)
300
Attack
Defense
Counter
100
100
Yes
M.Attack
M.Defense
Speed
76
100
50
Vector is one of the three executioners faced in Zenebatos; the other two is Kubila and Selebus.
Vector is the little winged executioner that is the easiest of the three and has the least amount of attacks/abilities:
Attack: Hops over to one party member and strikes three times
Growth Spurt: Grows massively for a certain amount of time when kissed by Selebus
Hip Press: When Vector jumps on to all party members and damaging them (Only done when he is massive)
Munch Munch: Vector grabs one party member and puts them in his mouth, chews and spites them out dealing damage (Only done when he is massive)
Vector isn't much of a problem so he is recommended to be killed last out of the 3 executioners.
Ad blocker interference detected!
Wikia is a free-to-use site that makes money from advertising. We have a modified experience for viewers using ad blockers

Wikia is not accessible if you've made further modifications. Remove the custom ad blocker rule(s) and the page will load as expected.