Monster
Salamander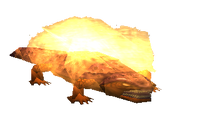 | | |
| --- | --- |
| Location | Element |
| Volcano Villude | Fire |
HP
EXP
Gold
US 41
JAP 40
17
US 9
JAP 3
Attack
Defense
Counter
13
140
Yes
M.Attack
M.Defense
Speed
12
60
50
Item dropped
Sun Rhapsody (8%)
Salamander is a fire-element based monster of which may be located within the Volcano Villude.
Appearance
Edit
The Salamander resembles well a big red salamander covered with flames on its back. It has a large mouth good for biting it's prey
The salamander is one of the stronger monsters found in the Volcano Villude.
Piercing Fang - The salamander bites one target with a 50% of inflicting the status Stun.
Gushing Magma - the salamander shoots out of it's mouth a Gushing magma dealing magic fire damage to the whole party.
Battle pairing / formation
Edit
All battle formations of which you will encounter a Salamander.
Salamander

Salamander x2

Salamander + Red Hot

Salamander + Fire Spirit
Ad blocker interference detected!
Wikia is a free-to-use site that makes money from advertising. We have a modified experience for viewers using ad blockers

Wikia is not accessible if you've made further modifications. Remove the custom ad blocker rule(s) and the page will load as expected.