Monster
Run Fast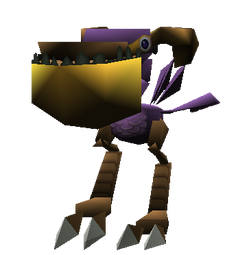 | | |
| --- | --- |
| Location | Element |
| Nest of Dragon | Thunder |
HP
EXP
Gold
US 66
JAP 80
16
US 12
JAP 4
Attack
Defense
Counter
14
100
Yes
M.Attack
M.Defense
Speed
14
80
60
Item dropped
Body Purifier (10%)
Run Fast is a thunder-element based monster of which may be located within The Nest of Dragon.
Appearance
Edit
This monster resembles a physically large, purple feathered pelican with sharp teeth.
It possesses two abilities; attacking by biting an ally with its teeth, and "Sludge" which can strike an ally with the status ailment blind, which causes an ally to miss when attacking.
Run-about - Charges towards a single target, smashing into them for medium physical damage.
Slime - Inflicts Disable upon hit with a given probability.
Escape - Flee's from the battle.
Battle pairing / formation
Edit
All battle formations of which you will encounter a Run Fast.
Run Fast

Run Fast + Mandrake

Run Fast x2 + Lizard Man
Ad blocker interference detected!
Wikia is a free-to-use site that makes money from advertising. We have a modified experience for viewers using ad blockers

Wikia is not accessible if you've made further modifications. Remove the custom ad blocker rule(s) and the page will load as expected.