| | |
| --- | --- |
| | This article is a stub. You can help The Legend of Dragoon Wiki by expanding it. |
Monster
Psych Droid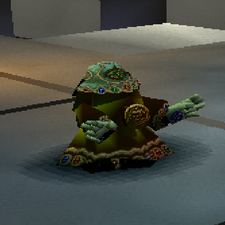 | | |
| --- | --- |
| Location | Element |
| Everlasting Moon | Light |
HP
EXP
Gold
US 2000
JAP 2500
638
US 84
28
Attack
Defense
Counter
60
100
Yes
M.Attack
M.Defense
Speed
121
160
60
Item dropped
Spectral Flash (8%)
Psyche Druid is a light-element based monster of which may be located within The Moon That Never Sets.
Appearance
Edit
This monster resembles a green skinned humanoid of some sort, one of which is completly hidden under robes with the sole exception being its hands. The robe is brown with gems all along the bottom trim and all along the next trim. A large eye is designed into the pattern of the fabric. This monster is physically large, and infact much larger than its weaker cousin, Witch.
Battle pairing / formation
Edit
All battle formations of which you will encounter a Psyche Druid.
Psyche Druid

Psyche Druid x2

Psyche Druid x3

Psyche Druid + Unicorn

Psyche Druid + Roulette Face

Psyche Druid + Mad Skull
Ad blocker interference detected!
Wikia is a free-to-use site that makes money from advertising. We have a modified experience for viewers using ad blockers

Wikia is not accessible if you've made further modifications. Remove the custom ad blocker rule(s) and the page will load as expected.