Phantom Ship
Talk

0
394pages on
this wiki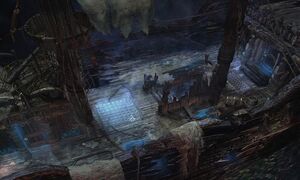 The Phantom Ship is the ghost vessel of what is left of the Saint Louvia, a royal ship from Mille Seseau. It is possessed by the dead angry spirits who fought against the Black Monster to save Princess Louvia and failed to do so.
The Phantom Ship crashes into the Queen Fury on it's way to Fueno to get back the Moon Dagger from Lenus who stole it. Dart and Co. learn some eerie things about this ship's past like the fact the Black Monster killed everyone on board including the baby Princess Louvia . Since Louvia was thought to be the Moon Child unbeknown to Rose that Shana is Louvia's twin. The Phantom who keeps this ship going by her sorrow is Louvia's nanny who failed to protect her. Dart and company must defeat the Ghost Commander and his Ghost Knights in order to get to the Nanny. Since Shana is Louvia's twin the Nanny thinks Louvia is alive and rests in peace thus causing the Ship to sink.
Escaping the Ship
Edit
Dart waits as everyone else gets back onto the Queen Fury and as he jumps. He misses and Rose catches him, putting her in the same position as she was with Zieg Feld 11,000 years ago at Kadessa. Rose refuses to let go and they both fall into the water.
Treasure chest mini-game
Edit
| Attempt | Tries | Prize |
| --- | --- | --- |
| 1 | 10 | Stun Guard |
| 2 | 8 | Panic Guard |
| 3 | 6 | Magic Ego Bell |
| 4 | 4 | Talisman |
| 5 | 2 | Ultimate Wargod |
| >6 | 2 | 100 G |
A mini game can be found at the Phantom Ship, where the player have to guess the combination of a treasure chest. There is a different prize for every attempt to solve the combination. If the player solves the combination, he/she will be awarded with a prize. However, if the player fails to guess the combination, three skeletons will attack the player.
In order to get the digits needed for the combination, the player must visit a room where four ghosts will appear and give him/her four digits. However, one of the digits doesn't belong to the combination. Now it's up to the player to find the treasure chest and then guess the combination. For every attempt the number of tries is reduced by two, starting with ten tries. After the fifth attempt, the prizes will be replaced with a small amount of gold.
The Phantom Ship was originally called "Saint Louvia" before it was destroyed by the Black Monster .
There is also replica of a "Saint Louvia" miniature ship itself in Deningrad at the National Library among the relics of Neet .
Like Death Frontier, Phantom Ship always have monster reappearing after you defeat them at one spot.
References
Edit