| | |
| --- | --- |
| | This article is a stub. You can help The Legend of Dragoon Wiki by expanding it. |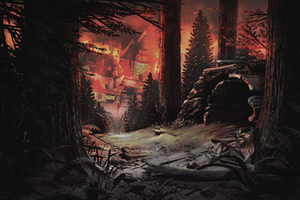 Neet was a town on the eastern edge of Mille Seseau. Eighteen years prior to the start of the game it was destroyed by the Black Monster leaving no survivors except two, Dart Feld and the Second Sacred Sister Luanna. it is possible to go to a destroyed version of this town.
The hometown of Dart, Neet, was burned to the ground 18 years ago when attacked by The Black Monster, who was searching for the moon child. 
Some of the most powerful forces ever to clash in Endiness since the Dragon Campaign converged here eighteen years before the story begins. Melbu Frahma, Zieg Feld, and Rose the Dark Dragoon as known as the Black Monster fought here.
When it was all over, Neet was in ruins. Frahma had to flee, even though his curse controlled the mighty Zieg like a puppet. Dart was a five year old orphan wandering through melting snow lit by flames as the ashes slowly fell, calling for his dead mother, Claire. And Rose still had to find Princess Louvia before Melbu Frahma did...
The specifics of what happened at Neet are never mentioned in full in the story. Because of events that occurred later, though, it is known that when Zieg and Claire went back into the town, Zieg was forced to use his Dragoon spirit to be able to fight with The Black Monster. Upon doing so, Melbu Frahma's curse, which he had placed on Zieg 11,000 years ago at the end of the Dragon Campaign, took effect. Without a Dragoon or magic to aid Zieg's wife Claire, the martial arts she had learned from her father Haschel were more likely the cause of her death than her salvation.
Now possessed by Melbu Frahma, Zieg left the town and the villagers behind and began plotting Melbu Frahma's return to power.
| | |
| --- | --- |
| Found on a lamp post near the entrance. | |
Ad blocker interference detected!
Wikia is a free-to-use site that makes money from advertising. We have a modified experience for viewers using ad blockers

Wikia is not accessible if you've made further modifications. Remove the custom ad blocker rule(s) and the page will load as expected.