| | |
| --- | --- |
| | This article is a stub. You can help The Legend of Dragoon Wiki by expanding it. |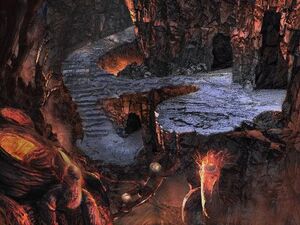 Mountain of Mortal Dragon was once the prison of the Divine Dragon and later became his lair. After eleven millenia the power which sealed the dragon began to wane and the creature broke free of its confines.
Geographic
Edit
Over 10 millennia ago, the Dragon King was sealed away by the ancient Winglies in the depths of the Mountain of Mortal Dragon for the fear of being obliterated by his incredible power. Not even the humans could side with the dragon because its pride did not allow it, unlike other dragons.
About eleven thousand years later, the seal of the Divine Dragon wore off, allowing the angry monster to fly off and wreak vengeance upon all he hated, including the Winglies who trapped him over 10,000 years ago.
The Divine Dragon manages to break free from his binding chains, when he does he immediately makes an appearance by the Crystal palace. He then flies back to the Mountain until later. He later comes back and actually attacks the city almost completely destroying the Palace, it is then that you arrive with the Dragon Block Staff and head toward the mountain to confront the Divine Dragon.
* Speed down can be found in the room just prior to the Divine Dragon. It is just below the chest containing a Body Purifier and is hidden behind some rocks.
Ad blocker interference detected!
Wikia is a free-to-use site that makes money from advertising. We have a modified experience for viewers using ad blockers

Wikia is not accessible if you've made further modifications. Remove the custom ad blocker rule(s) and the page will load as expected.