Monster
Knight of Sandora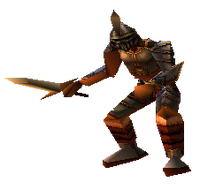 | | |
| --- | --- |
| Location | Element |
| Seles | Fire |
| | | |
| --- | --- | --- |
| HP | EXP | Gold |
| 5 | 2 | 3 |
| Attack | Defense | Counter |
| 2 | 40 | No |
| M.Attack | M.Defense | Speed |
| 2 | 50 | 40 |
Item dropped
Healing Potion (100%)
Knight of Sandora is a monster found in Seles and Black Castle. In battle, they are users of the Fire element.
Appearance
Edit
The Knight of Sandora is an armored human enemy. The wield a sword in their right hand.
In Seles this enemy in encountered both in a battle shortly after arriving on the destroyed village and with the Commander. It should be noted that at this location the knight is immune to status abnormalities.
Dagger Throw - The knight throws a dagger at Dart
Swipe - The knight runs up to Dart and slashes him with their sword
Black Castle
Edit
In the Black castle this enemy is encountered in the lowest level of the castle, guarding the magic elevator, and in the training room on the upper level of the castle.
Dagger Throw - The knight throws a dagger at the target
Swipe - The knight runs up to the target and slashes them with their sword
HP Recovery - The knight heals 54 HP