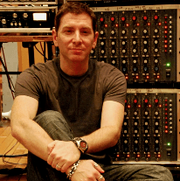 Dennis Martin was one of the composers for The Legend of Dragoon and was responsible for creating the majority of the tracks in the soundtrack. After previously working on the music for several Japanese TV shows, he was hired to work along with the Japanese composer Takeo Miratsu since the game was too big for Martin to work on by himself.
When he was hired, he sent two demos to Sony. One of them became the main theme of game and was kept in its original form, while the other one "was not accepted with the same enthusiasm".
During the whole game development, he never met his colleague Miratsu.
After the release of the game, Martin heard that "some new character sketches [was] in existence" for the sequel.
Musicians who have influenced him include The Beatles, Miles Davis, Stevie Wonder, Pink Floyd and John Coltrane.
References
Edit
Ad blocker interference detected!
Wikia is a free-to-use site that makes money from advertising. We have a modified experience for viewers using ad blockers

Wikia is not accessible if you've made further modifications. Remove the custom ad blocker rule(s) and the page will load as expected.