Monster
Cute Cat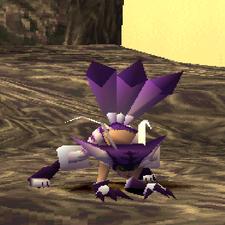 | | |
| --- | --- |
| Location | Element |
| Divine Tree | Thunder |
HP
EXP
Gold
US 704
JAP 800
162
US 51
JAP 17
Attack
Defense
Counter
80
140
Yes
M.Attack
M.Defense
Speed
102
180
70
Item dropped
Dancer's Shoes (2%)
Cute Cat is the only thunder-element based monster of which can be located within The Divine Tree.
Fury Swipes - Runs towards a single target smacking them several times with its paws, dealing medium physical damage.
Charging Spirit - Uses special attack or All-out Attack next turn. 
Luring Dance - Inflicts Bewitchment upon a single target.
Dance of Death - Inflicts Can't Combat upon a single target.
Do note, this monster may evade your attacks with a given probability.
Upon defeat, this monster may drop the accessory Dancer's Shoes with a very rare probability of 2%. The average amount of time required to obtain this item is roughly an hour. As always, this varies per person and their luck.
Battle pairing / formation
Edit
All battle formations of which you will encounter a Cute Cat.
Cute Cat

Cute Cat + Manticore

Cute Cat + Mountain Ape x2
Ad blocker interference detected!
Wikia is a free-to-use site that makes money from advertising. We have a modified experience for viewers using ad blockers

Wikia is not accessible if you've made further modifications. Remove the custom ad blocker rule(s) and the page will load as expected.