Boss
Complete Virage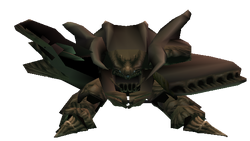 | | |
| --- | --- |
| Location | Element |
| Moon That Never Sets | None |
| | | |
| --- | --- | --- |
| HP | EXP | Gold |
| 10000 | 15000 | 300 |
| Attack | Defense | Counter |
| 150 | 100 | {{{Cntr1}}} |
| M.Attack | M.Defense | Speed |
| 90 | 100 | 50 |
Complete Virage
| | |
| --- | --- |
| Location | Element |
| Moon That Never Sets | None |
| | | |
| --- | --- | --- |
| HP | EXP | Gold |
| 16000 | 1500 | 300 |
| Attack | Defense | Counter |
| 100 | 180 | {{{Cntr2}}} |
| M.Attack | M.Defense | Speed |
| 90 | 120 | 40 |
The Complete Super Virage is a type of Virage encountered on the Moon That Never Sets, acting as a gate-keeper prior to the final battle with Zieg Feld possessed by Melbu Frahma.
The complete Super Virage is significantly more powerful than the damaged Super Virage encountered in the Forbidden Land, and uses a variety of individual and full-party attacks, including:
Basic Attack: the Virages grabs one of the party members with its arm and inflicts damage.
Rock Fall: The Virage shakes its body violently, causing rocks to fall from above that crush the party. This attack damages all members of the party.
Tentacle Smash: The Virage wraps a party member up in a series of tentacles that seep out of its left arm. The tentacles then squeeze and suck the trapped party member before launching them backward.
Mind Wave: the Virage releases psychedelic energy through its eye. The energy causes one of the numerous status effects. This attack damages all party members.
Laser Beam: The Virage charges up energy through its eye, which is then released in series of blue-violet beams. This attack damages all party members.
Gravity Cannon: The Virage raises its right arm up in the air and absorbs the energy of the cosmos into itself. This energy then manifests as a galaxy that the party falls into. Inside this realm a meteor-storm smashes into the party, and they plummet back to the Earth. This attack damages all party members.
Self-Destruct: a special final-attack possessed by the complete Super Virage in which it self-destructs, inflicting major damage on all members of the party, usually enough to kill several. This attack only occurs when the head of the complete Super Virage is destroyed.
There are three body parts which can be attacked on the complete Super Virage: the head, the right-arm, and the body. Unlike most of the other forms of Virage, there are two possible methods for defeating the Super Virage: kill the head, or kill the body.
Killing the body is the recommended technique, as the complete Super Virage will be unable to use its surprise attack. The body has a higher HP than the head though, so expect a longer fight.
Killing the head is the faster, and more obvious method, but causes the Super Virage to self-destruct, an attack that does a large amount of damage to all party members.
If killing the head is the chosen method it is recommended that the player uses Dragoon Albert's "Rose Storm" magic to halve the damage from the surprise attack.