Monster
Assassin Cock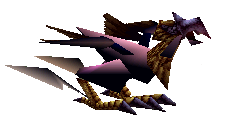 | | |
| --- | --- |
| Location | Element |
| Forest | Wind |
HP
EXP
Gold
US 3
JAP 4
5
US 6
JAP 2
Attack
Defense
Counter
2
100
Yes
M.Attack
M.Defense
Speed
3
120
50
Item dropped
Healing Potion (10%)
Assassin Cock (アサシンコック, Asashin Kokku) is a wind based monster found in the Forest.
Appearance
Edit
The Assassin Cock is a purple bird with large claws. The Fowl Fighter is a recolored version of this creature.
The Assassin Cock's high speed will often allow it to have the first strike.
Feet Sickle - Runs up to character and slashes with claws
Sound Wave - Caws creating a multi-target attack
Battle pairing / formation
Edit
All battle formations of which you will encounter a Assassin Cock.
Assassin Cock
Assassin Cock x2
Assassin Cock + Goblin
Assassin Cock + Berserker Mouse
Ad blocker interference detected!
Wikia is a free-to-use site that makes money from advertising. We have a modified experience for viewers using ad blockers

Wikia is not accessible if you've made further modifications. Remove the custom ad blocker rule(s) and the page will load as expected.